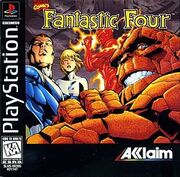 Fantastic Four is a Video Game based upon the Marvel Comics, The Fantastic Four and was released in 1997. It is was released on PlayStation and was developed by Probe Entertainment Limited and published by Acclaim. It was notable for being one of the only games on the console with a four player compatibility.
Ad blocker interference detected!
Wikia is a free-to-use site that makes money from advertising. We have a modified experience for viewers using ad blockers

Wikia is not accessible if you've made further modifications. Remove the custom ad blocker rule(s) and the page will load as expected.