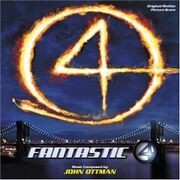 Fantastic Four: The Original Score is the orchestral music from the film of the same name, composed by John Ottman. It was released on July 12, 2005.
Track listing
Edit
1. Main Titles
2. Cosmic Storm
3. Superheroes
4. Experiments
5. Planetarium
6. Entanglement
7. Power Hungry
8. Changing
9. Lab Rat
10. Unlikely Saviors
11. Bye Bye Ned
12. Battling Doom
13. Bon Voyage
14. Fantastic Proposal
Ad blocker interference detected!
Wikia is a free-to-use site that makes money from advertising. We have a modified experience for viewers using ad blockers

Wikia is not accessible if you've made further modifications. Remove the custom ad blocker rule(s) and the page will load as expected.