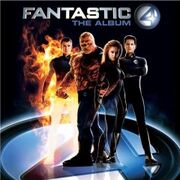 Fantastic Four - The Album is a collection of songs heard in, and connected to the film of the same name. It was released on July 8, 2005.
Track listing
Edit
1. Come In, Come On - Velvet Revolver
2. Error Operator - Taking Back Sunday
3. Relax - Chingy
4. Whatever Happened To The Heroes - Joss Stone
5. Waiting (Save Your Life) - Omnisoul
6. Always Come Back To You - Ryan Cabrera
7. Everything Burns - Anastacia; Ben Moody
8. New World Symphony - Miri Ben-Ari featuring Pharoahe Monch
9. Die For You - Megan McCauley
10. Noots - Sum 41
11. Surrender - Simple Plan
12. I'll Take You Down - T.F.F. featuring Chris Cestor (from JET), Brody Dalle (from The Distillers), Dolf de Datsun (from The Datsuns) & Nick Zinner (from the Yeah Yeah Yeahs)
13. On Fire - Lloyd Banks
14. Reverie - Megan McCauley
15. Goodbye To You - Breaking Point
16. Shed My Skin - Alter Bridge
17. In Due Time - Submersed
18. Disposable Sunshine - Loser
19. Now You Know - Miss Eighty 6 featuring Classic
20. Kirikirimai - Orange Range

Ad blocker interference detected!
Wikia is a free-to-use site that makes money from advertising. We have a modified experience for viewers using ad blockers

Wikia is not accessible if you've made further modifications. Remove the custom ad blocker rule(s) and the page will load as expected.